The Sukin Journal
Discover the world of natural through our eyes! From skincare tips, lifestyle and environmental hacks to inspirational interviews! Explore it all.
Winter Skincare Secrets Revealed!
Just when you've figured out the right skincare routine, winter comes along, and suddenly, you have to change your tried-and-true summer remedies for their more hydrating counterparts. Our top skincare secrets are revealed for achieving glowing, radiant skin in winter.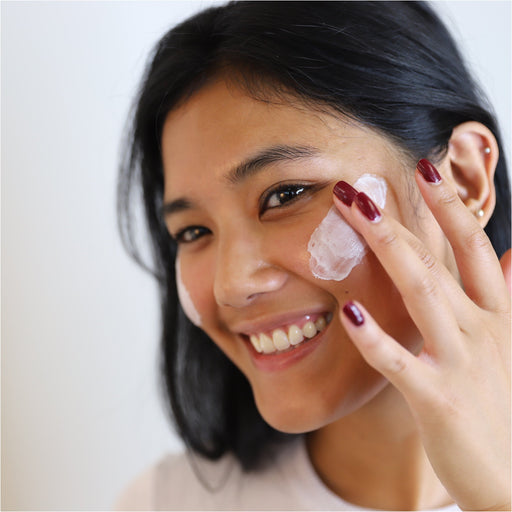 Cold weather can bring some unwanted and unwarranted side effects to your skin. Think a dull, dehydrated complexion, chapped lips and break-outs due to the change in climate. We have you covered from head to toe with an array of winter wonders that will transform your skin from drab to fab! Here are our top skincare saviors and tips from some of our favorite beauty experts. 
Scrubs:
Exfoliation is a must when it comes to maximizing the benefits from your skincare regimen, especially now that the weather has cooled. The harsh elements of the winter season deplete the moisture levels in your skin, leaving it looking rough, dehydrated and dull. By exfoliating your face as well as your body, your complexion is able to soak up all of the antioxidants and nutrients your base needs to unearth its natural radiance!
Take BeautyCrew's cue and utilize a facial scrub once or twice a week! "Slough away those dead skin cells that can lead to pimples by using a gentle scrub, like Super Greens Detoxifying Facial Scrub. A soft exfoliation done in circular motions can also help improve skin radiance in the long term." Beauty experts Byrdie also believes in the magical polishing powers of our Energizing Body Scrub! "It's creamy, smells like a coconut cappuccino and is so hydrating (thanks to Coconut and Jojoba Oils). Never be caught with dry, scaly legs again"
Oils:
If you haven't started incorporating an oil into your skincare routine- you need to pronto! An ultra-moisturizing and nourishing oil is what your skin is longing for in the winter months. Think of oils as a multipurpose, full body miracle product. Whether you love the more traditional Rosehip or fancy a Super Greens antioxidant boost from Chia Seed Oil- there is an elixir for everyone. Does the thought of applying oil scare you a little? It can be daunting. By adding just a few drops into your moisturizer at night, you can reap the benefits of intense hydration, anti-aging benefits and achieving optimal skin health.
Australian Natural Health magazine Editor, Danae Dimitropoulou says "to combat dryness and keep my skin feeling supple throughout winter, I use facial oil every night after I've cleansed and toned. Oils that are derived from pure plant extracts work to penetrate the lower level of the epidermis, which deeply hydrate and aid the skin's ability to heal and repair itself."
There you have it! These little tips will make your skin winter proof in no time- you won't regret it!
See our natural Scrubs here
---