The Sukin Journal
Discover the world of natural through our eyes! From skincare tips, lifestyle and environmental hacks to inspirational interviews! Explore it all.
How To Choose Your Moisturizer
Choosing a facial moisturizer is a crucial step in formulating your ideal skincare routine. Follow the questionnaire to reveal which moisturizer is best for your skin type and requirements.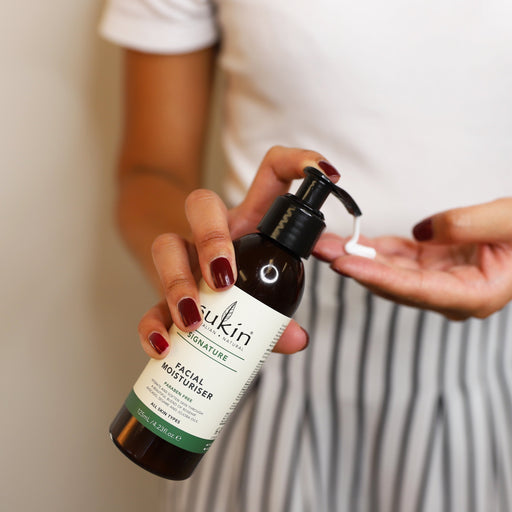 Moisturizers are a crucial component of any skincare routine and even more important for the health and happiness of your skin. But with so many choices and so many different skin types out there, how do you know which one to choose?
We've developed a simple questionnaire to assist with pointing you in the right direction. Be sure to record your letter for each question to reveal your ultimate moisturizer at the end. You can record more than one letter for each question, but do note this will skew your results at the end.
1. Which best describes your type?
Very Dry = R
Somewhat Dry = S
Normal/balanced = F
Combination or oily = G
2. Which best describes the condition of your skin?
Sensitive or prone to acne/spots = S
Dull skin lacking vibrancy = G
Aging or Mature Skin = R
Normal (no conditions or concerns) = F
3. How thick do you like your moisturizer?
A rich cream = R
A lighter lotion = S
An everyday cream = F
A medium weight cream = G
4. What are you looking for most in addition to hydration?
To calm and soothe my skin = S
A good dose of antioxidants = R
Everyday health and nourishment = F
To boost health and nutrients to my skin = G
Mostly S
Sensitive Facial Moisturizer – Your skin is a little dry and/or sensitive which means you need adequate hydration, without risk of flare up. You're not after a heavy cream, and need a moisturizer that's going to keep your sensitivities at bay.
Mostly F
Sukin Facial Moisturizer – Your skin is kind to you, and with very little concerns or conditions, you're after that every day, easy hydration that will last the day, but isn't too thick or rich.
Mostly G
Super Greens Nutrient Rich Facial Moisturizer – your skin needs a balance and a health boost to brighten the complexion and restore nutrients to the skin whilst also providing moisture. You're after a daily cream that provides generous hydration, and lots of vitamins and antioxidants.
Mostly R
Rose Hip Day Cream – You're after lots of moisture, and a rich cream that is going to infuse your skin with antioxidants. Your concern may be fine lines, and possibly flaking, but most of all your skin lacks moisture and needs a good hydration boost.
Even Spread –
So more than one moisturizer may be right for you, what next?
We recommend having a look at the ingredients and the product pages, to see if one product stands out over the other for you. Pay attention to things like scent and added benefits and choose a moisturizer that you think fits as many of your requirements as possible.
If you still can't decide, why not send us an email and we can assist you with the decision? info@sukinnaturals.com
Other products you may like
---