The Sukin Journal
Discover the world of natural through our eyes! From skincare tips, lifestyle and environmental hacks to inspirational interviews! Explore it all.
A Pre-Purchase Guide To Cleansers And Cleansing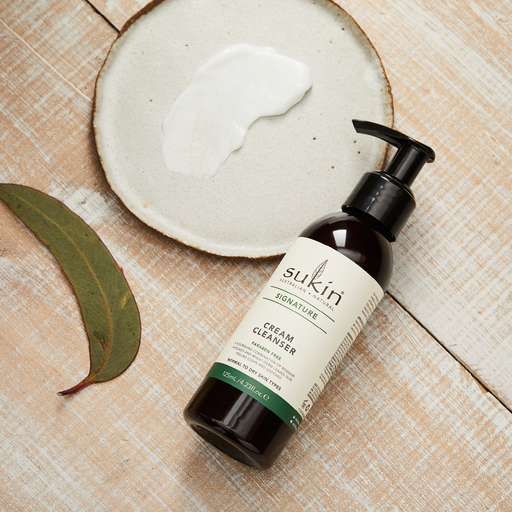 It's a simple step, with many elements that can turn it into a disaster experience for you and your skin. Cleansing with the wrong products can lead to oil imbalance, break – outs and dull, unhappy skin. We can all safely agree, that's not the outcome we want. 
How do you choose the right cleanser for your skin type? Before you head out to buy your next cleanser, make note of the few points below to help you make the best cleanser selection for glowing, healthy skin.
Cleansers Defined:
Cream Cleansers – are typically for dry skin types and contain ingredients within that will help to keep your skin hydrated whilst cleansing. Often they are designed so that they may be simply wiped off, but can also be washed off if that is your preference. Remember the less hot water involved in a dry skin cleansing routine, the better, as excess water on the skin can lead to further dryness and flaking.
Try: Sukin Cream Cleanser, Sukin Sensitive Cleansing Lotion
Foaming Cleansers – suit combination to oily skin types much better, and will often include balancing ingredients such as green tea and witch hazel to remove excess oil in the cleansing process. The light foam assists to move the product over the skin more effectively, ensuring the pores are well rid of any congestion that may lead to oil build up. 
Try: Sukin Foaming Facial Cleanser, Sukin Sensitive Cleansing Gel
Micellar Cleansing Water - you can view an in depth article on Micellar water here, but in short, this product is like a cleansing wipe, without the wipe component. It is applied using a cotton pad or cloth and wiped over the skin to remove makeup, excess oil and build up. Tiny micelles form in the product and cling onto particles resting on the surface of your skin, wiping them off. It is suitable for both dry and combination/oily skin types, however if your skin is dry you will need a rich moisturizer to follow this cleansing product.
Try: Sukin Micellar Cleansing Water
A few tips on method:
A number of tools including muslin cloths and cleansing brushes can assist you in achieving a deeper, more effective cleanse. For more information, beautyheaven.com.au provide some fantastic details on tools here.

For some skin types, seasonal changes may mean you need to switch your cleanser for a different one, typically a cream cleanser is required during the winter, and a foaming cleanser during the summer.