The Sukin Journal
Discover the world of natural through our eyes! From skincare tips, lifestyle and environmental hacks to inspirational interviews! Explore it all.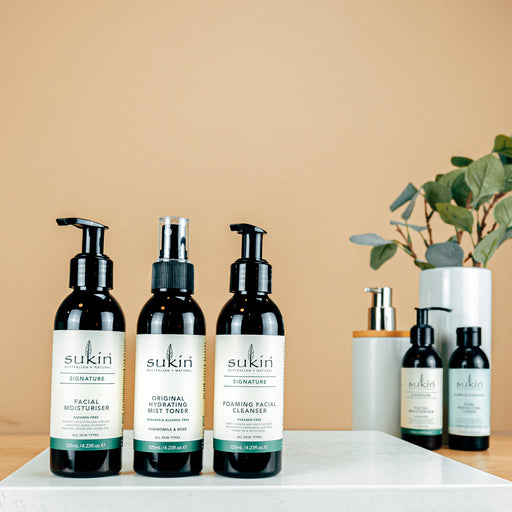 A movement towards simple, effective, fuss-free skincare and minimalist formulas is something to be celebrated. Add that to a movement heroing natural, botanical ingredient, and you're left with something to be embraced.
A-Beauty, a movement shining a light on native Australian ingredients, is taking the world of beauty by storm- and Sukin is championing the movement.
Why we love A-Beauty- and why you'll love it too 
Image source: Bald Tower Productions
A-Beauty celebrates all there is to love about Australian beauty. It's a global movement towards the lifestyle and beauty ethos Australians are known for- laid-back, relaxed, and with a deep love for nature.
A-Beauty is about simple but highly effective formulas, bringing beauty back to basics and embracing all things clean and green. It's a movement that won't just benefit your skin. It will benefit the planet, too.
Australia is home to so many beautiful, native botanical ingredients that have potent healing properties when applied topically to the skin, and the A-Beauty movement is allowing us to share those natives with the rest of the world.
Take Kakadu Plum. This indigenous Australian ingredient is a naturally rich source of Vitamin C, working to boost your skin's hydration and give the complexion a natural glow. High in antioxidants, Kakadu Plum has been used for centuries to protect the skin from environmental stressors.  
Another native ingredient we love is Quandong Extract. Another potent source of Vitamin C, this Australian botanical is high in essential fatty acids to reduce the appearance of fine lines and wrinkles, moisturize the skin and fight free radical damage.
How we are championing the A-Beauty movement 
Proudly made in Australia, Sukin have long celebrated all things Australian and are proud to be at the forefront of the global A-Beauty movement. For years, Australians have relied on Sukin's simple, effective formulas and innovative green chemistry for truly healthy skin and hair.
Beyond heroing natural, Australian ingredients, Sukin are doing their part to protect the earth from which these botanicals are grown. Sukin have been entirely carbon neutral since 2008, investing in projects to offset their carbon emissions and ensure the brand's total carbon output is 100% counteracted, thus redefining what it really means to be a sustainable, green beauty brand. Sukin also partners with Greening Australia to support its Reef Aid program, working to improve the water quality on the Great Barrier Reef, rebuilding eroding land and restoring vital Australian coastal wetlands. ­ 
How you can embrace A-Beauty
One of the truly beautiful things about the A-Beauty movement is that it heroes simple but effective formulas. A-Beauty isn't about having more, more, more- it's about embracing natural beauty and paring things back.
To work A-Beauty into your skincare regimen, we recommend starting with a simple, carefully curated range of products that you can then build upon to target your more specific skin concerns. 
Begin your A-Beauty ritual with the Foaming Cleanser from Sukin's Signature range. Unlike many traditional foaming cleansers, this facial wash gently purifies the skin without stripping it of its natural oils to ensure you aren't left with a tight, dry feeling. Effectively removing makeup, grime and excess oils, this cleanser contains a natural blend of Chamomile, Aloe Vera, Green Tea, Witch Hazel, Evening Primrose and Rosehip Oil.
Refresh your complexion with the Sukin Original Hydrating Mist Toner to soothe the skin post-cleanse. A blend of Chamomile and Rosewater, this mist toner works to soothe, purify and cool the skin.
Finish your A-Beauty regimen by applying the Sukin Signature Facial Moisturizer. Now a Sukin icon, this daily moisturizer is rich in Rosehip, Avocado, Sesame Seed and Jojoba Oils to restore moisture to the skin, strengthen and repair the skin's barrier function and improve the overall texture of the skin, leaving it with a natural glow.