The Sukin Journal
Discover the world of natural through our eyes! From skincare tips, lifestyle and environmental hacks to inspirational interviews! Explore it all.
Top 9 Anti-Aging Superfoods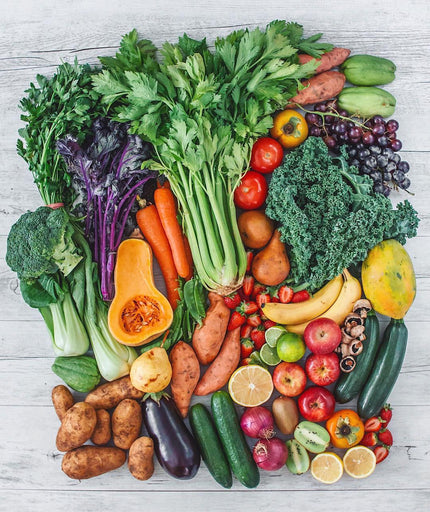 You are what you eat right? While aging is a natural process, following a healthy lifestyle by exercising and eating a nutrient-filled diet, can help slow the effects. Our skin is a clear indication of how well we treat our bodies. Of course sun exposure, heredity factors, skincare and hydration factor are too, but if we can look and feel better (and have a glowing complexion) by eating the right foods, then we might as well try!
Here are the top 9 anti-aging superfoods that will make you look well and feel better:
1. Blueberries
Blueberries are a natural superfood you can eat to fight off the signs of aging. It's rich in Vitamin C, which helps with blood circulation and provides minerals and salts which help the body to fight the aging process.
Tip #1: the darker black and blue colored berries provide the best anti-aging benefits because they have the highest concentration of antioxidants.
2. Avocado
Avocados contain high levels of Vitamin E and Biotin, which helps achieve perfect glowing skin, as well as healthy hair and nails. They also have a rich source of skin-protective antioxidants and a high folate content, which is important for skin cell regeneration and give skin a more youthful/glowing complexion.
3. Sweet potatoes, pumpkin, and carrots
These vegetables all contain Beta-carotene, which gives them their orange coloring. Beta-carotene provides a number of healthy aging benefits, it helps protect your skin from sun damage and signs of aging by preventing the breakdown of collagen in skin. These orange vegetables also contain high amounts of Vitamin A, Vitamin C, Potassium and powerful antioxidants which help you maintain a healthy immune system.
4. Broccoli
Rich in Vitamin C, Beta-carotene and fibre, broccoli helps prevent wrinkles by synthesizing collagen to create smooth, more firm skin.
5. Spinach and Kale
Leafy greens help maintain glowing, youthful looking skin. Spinach and kale contain the two important antioxidants: lutein and zeaxanthin, which have been known to protect against the negative effects of UV exposure. They also contain Vitamin C, Vitamin K and Beta-carotene.
6. Tomatoes
Tomatoes contain large amounts of the antioxidant compound lycopene. Lycopene helps protect against UV radiation, sunspots, and wrinkles by preventing the breakdown of collagen in skin. Tomatoes also contain Vitamin C for collagen strength and potassium which regulates the water and nutrient content of the cells in the skin.
7. Red cabbage
Red cabbage is full of powerful antioxidants that help slow down the body from aging. It contains polyphenols, Vitamin A and Vitamin C which boost the immune system and prevent accelerated aging.
8. Almonds and Walnuts
Almonds and walnuts are a very good source of Vitamin E, which is an essential nutrient to the skin, so consuming both will give your skin a healthy glow. Selenium, a mineral found in almonds can also help you erase dark under-eye circles and the appearance of tired, sunken eyes.
9. Dark Chocolate
Not that we need another excuse to eat chocolate but good quality cacao dark chocolate provides antioxidants which help reduce inflammation of the skin caused by exposure to UV light. It can also increase circulation in the skin and improves its ability to retain moisture, which can reduce the appearance of wrinkles. Another great reason to indulge, is that dark chocolate is full of protein and B vitamins which can help burn fat and improve.